Halloween is around the corner, it is time to get your costume ready! Some of us may want to purchase decorative contact lenses to enhance our costume. But where can we get these lenses? You may think that it is a good idea to purchase the contacts online, beauty salons, or other over the counter locations. However, ill-fitting contact lenses can lead to eye infections, eye allergies, and potential for irreversible vision loss.
All contact lenses are classified as medical devices by the U.S. Food and Drug Administration (FDA) and a require a valid prescription which includes the size and curvature of the contact lens. It is important to have an eye examination and contact lens corneal health evaluation to determine if your cornea is healthy enough for contact lenses. A corneal health assessment includes corneal topography which allows your eye doctor to determine the size and curvature on the front surface of the eye. This allows your doctor to customize the fit of the contact lens on your eye with the proper prescription, size, and curvature. Take a look at the decorative contact lenses below that we fit at our office: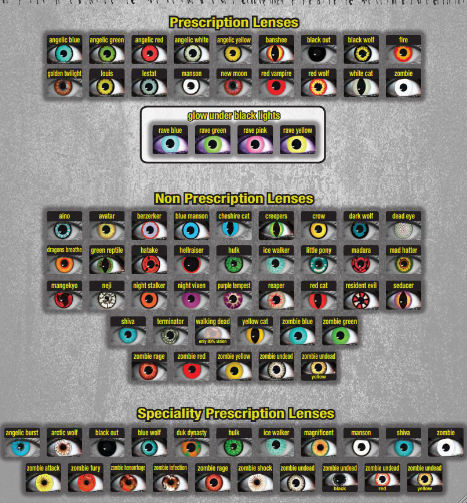 The American Optometric Association (AOA) offers the following recommendations for all contact lens wearers:
Wear contact lenses only if they are fitted and prescribed by an optometrist.
Do not purchase contact lenses from gas stations, video stores, websites or any other place not authorized by law to dispense contact lenses.
Properly clean and disinfect your contact lenses as instructed by your eye-care professional.
Wash and thoroughly dry your hands before handling and cleaning your contact lenses.
Never swap or share contact lenses with anyone.
Never sleep while wearing contact lenses unless they are extended-wear lenses designed for that purpose.
At our office, we offer a large variety of decorative contact lenses that are non-prescription and prescription including astigmatism correction. Call our office today to schedule a contact lens and corneal health evaluation to accent your halloween costume! Deadline to order is Oct 18th!