An 11-year old girl came to our office for a comprehensive eye examination with her mother. This was her first eye exam at our office. During the examination we were able to detect keratoconus using our new technology called Visionix VX-120. Keratoconus causes thinning on the front surface of the eye. This device combines many different technologies into one platform. The device can perform autorefraction to simulate day and night time visual conditions, measure corneal topography, measure the thickness of the cornea, measure the angle of the anterior chamber, and check the pressure of the eye all in less than 20 seconds per eye.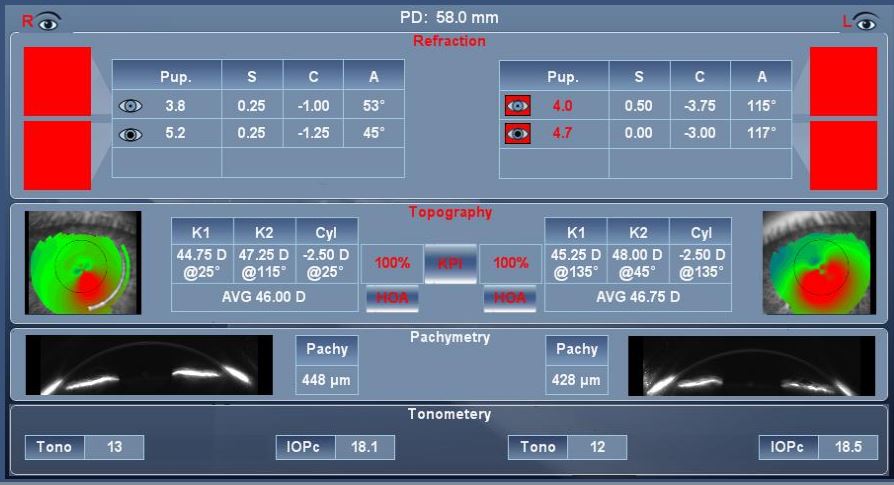 The display above on the Visionix VX-120 shows keratoconus in the right eye and left eye. Under Topography, the red areas on the map represent areas of thinning and bulging of the cornea.
Keratoconus is a condition that causes progressive bulging and thinning of the cornea which is the clear front surface of the eye. There is no pain. About 1 in 2,000 people have keratoconus and first appears in the early teens. It causes blurred vision, sensitivity to light, and worsens over 10 – 20 years causing the cornea to be distorted. People with keratoconus can only see clearly with special contact lenses because glasses will not provide clear vision. As the disease progresses, patients with keratoconus may need a corneal transplant due to scarring of the cornea as it thins over time. Fortunately, a new treatment called corneal cross linking can slow down and even stop the cornea from thinning.
This condition could have easily been missed if we had not screened our patient for keratoconus. She will be referred to a corneal specialist for an evaluation for corneal cross linking to prevent years of worsening vision. In our practice, every patient is screened using the Visionix VX-120 technology during their comprehensive eye examination. When it comes to you and your child's eye sight, you deserve the best that technology has to offer.